Last night was the grand opening of the
One Man Star Wars Trilogy
in our
Jaeb Theater
. Special guests from the
Florida 501st Stormtrooper Garrison
and best-selling author and
Hugo Award
-winner
Timothy Zahn
were in attendance. Here are a few photos they sent me this morning.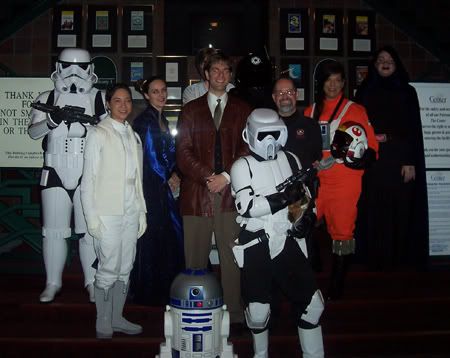 The 501st members, Charlie Ross and Timothy Zahn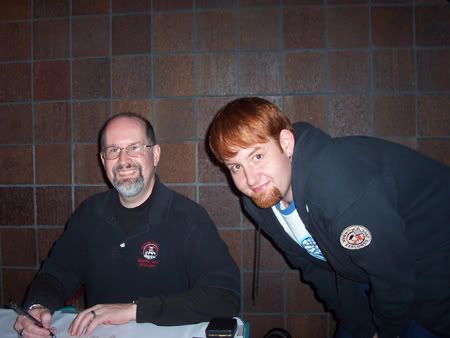 Me getting a book plate signed by Zahn.

Charlie ended up arriving pretty late due to some airport issues, but luckily the music and our pals from the 501st kept spirits up and we ended up only holding curtain by 10 minutes.
The show is an hour, so he spends about 20 minutes in each movie. His characters are crisp and his transitions seamless. Most characters were differentiated by simple hand gestures (cupped hands over the ears for Leia, on his knees holding a phantom cane for Yoda), but he also played every fighter-craft, capital vessel, walker and even the death star itself. Clad in only a black jumpsuit with a headset microphone, his only other theatrical device is cleverly simple and highly effective lighting. Every sound effect, piece of music and even the scrolling text from the beginning of the films were all intact - it was all Charlie, all the time.
Everyone seemed to enjoy his show regardless of how well they knew the movies, and he was welcomed into his bow with a standing ovation before he made the audience sit back down so he could thank the TBPAC staff for their great work getting the show together despite the ludicrously tight schedule, and to tell folks to make sure they never give up on their dreams.
He didn't take himself or his source material too seriously at all and never hesitated poking fingers in continuity errors or the less-than-finer-points in the films, or sweeping in references from the latter trilogy. He made a priceless reference about last night's release of the
Revenge of the Sith
DVD. He shared a great rapport with the audience, freezing in mid-sentence to ask a woman getting up and leaving if she was going to the bathroom before diving right back into the material. He did the same when she returned.
After the show and the signing in the lobby, I got the chance to go over to
The Hub
and have a few drinks with Charlie and his stage manager, James. Both have solid academic and professional backgrounds in the theater and it was a real treat to sit around and talk shop with those guys.
He's off tonight (his first off night in five weeks he remarked to me), and I believe he'll be trying to take in some of the sights here in Tampa, but
he has shows Thursday through Sunday
. I might advise getting your tickets early because it looks like we might go through these tickets faster than a
Womp Rat
passes through
Jabba the Hutt
.
- David J.